This is a page where you can add a link to your town page and give a brief discription. Please do not delete another towns link or description.
A metropolis owned by Owengpowell14, which is known for it's free, friendly enviroment, fresh, distinctive vibe, and unique, stylish builds. Go to it's page for more info!
RavenClaw has cool shops, residents and mayor, come join this wonderful beta town today! Click the town name for info.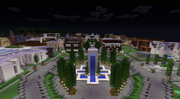 AspenLake is a beautiful Alpha town with private grinders, villager trade, mall and shops, pvp arena, parks, auction theater, casino, multiple public farms, and more.
The capitol of the Levicosm Realm owned by lightspeedtitan and _Lizzer.
Simplistic town in the post-alpha/beta towny system. Taxes are low and residents are friendly and active.